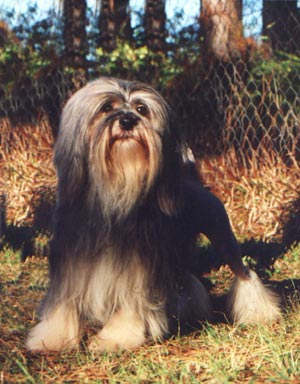 Australian Champion
Lowenhart Mystic Crystal
Acid
Date of Birth: 1994-08-08
Height: 28 cm
Colour: Black & Cream
Eye Test: Clear 2001
Knees: 0:0 (Normal)
Hearing: Untested
Died: 2010-02-06
Owned & bred by Lowenhart
Sire: Aust Ch Rondaglen Sir Galahad Dam: Aust Ch Lovchen Wildchild
Acid is our first homebred Champion, dam of 4 Individual Champions (carrying over 10 Country titles between them) and granddam of many many more Champions. Her grandpups live in numerous countries around the world.
Acid always produced better than herself but imparted some of her best qualities - sweetness of temperament, wonderful front & rear, well sprung chest, easy & open parallel movement and dark eyes.
She was retired from competitive showing at 8 years old, appearing occasionally in the Veteran or Neuter Classes until she was 11 years old. Acid also competed in Agility as a youngster, but motherhood called.
Acid has played an enormous part in the Lowenhart story. She has also been a devoted companion and friend.
Offspring
Aust Ch Paceaway Gremlin x Aust Ch Lowenhart Mystic Crystal
1998-11-16
Aust Ch Paceaway Washington x Aust Ch Lowenhart Mystic Crystal
1999-11-17
Aust Ch Bumir J'adore x Aust Ch Lowenhart Mystic Crystal
2002-11-18