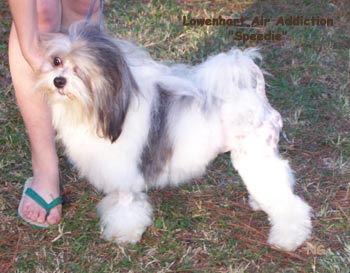 Lowenhart Air Addiction
Speedie
Date of Birth: 1999-11-17
Height: 31 cm
Colour: Black/White Particolour
Eye Test: Clear 2001
Knees: Normal
Hearing: Untested
Stud: Not at Stud - Castrated
Owned & bred by Lowenhart
Sire: Aust Ch Paceaway Washington Dam: Aust Ch Lowenhart Mystic Crystal
Returning to us at 5 months of age, "Speedie" has wormed his way back into our harts. He is a real cutie, endearing all with his ways. Speedie lives as our pet, occasionally lure-courses but enjoys car rides and cuddles the best.
Speedie was shown once, as a laugh, and won Best Neuter in Group sporting Poodle-style hip rosettes. He thoroughly enjoyed his day out doing what all his housemates get to do.
Speedie's biggest claim to fame is his role as model for the different Lowchen trims that was part of a presentation to the 2nd World Congress for Lowchen. His fantastic coat texture made him the ideal choice.