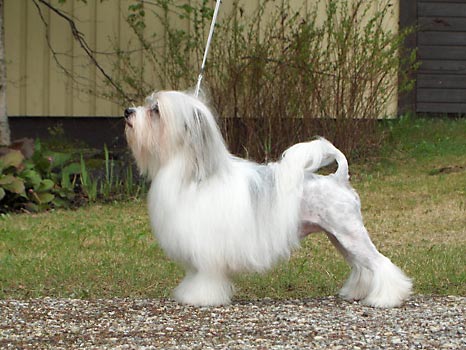 International, Australia, New Zealand, Denmark, Finland, Estonia, Lithuania, Norway, Sweden & Nordic Champion
Lowenhart Airborn Alot
(Export Finland)
Charlie
Date of Birth: 1999-11-17
Height: 29 cm
Colour: Black/White/Gold Particolour
Eye Test: Clear 2006
Knees: Normal
Hearing: Untested
Stud: No longer at Stud
Owned by Jari Partenen & Lowenhart & bred by Lowenhart
Sire: Aust Ch Paceaway Washington Dam: Aust Ch Lowenhart Mystic Crystal
He has the most individual country Champion titles of any Australian bred Lowchen, and he was also the first Aussie Lowchen to be exported to Nordic Countries. He has the honour of being awarded BIS Movement in Australian Speciality 2002 under Jocelyn Creffield - Melfield UK; BIS Movement in Finnish Speciality 2004 under Florence Fahey - Bentarsna UK; BIS Movement in Finnish Speciality 2006 under Sandy Steward - Pridesden UK; BIS Movement in Norwegian Speciality 2006 under Kay Sergeant - Grestean UK.
Along the way Charlie racked up an impressive number of Group wins in Australia & New Zealand, culminating in a Reserve in Show (BIS2nd All Breeds) Award in NZ. In his northern home, Charlie has many BOB, a Group placement and a BIS4th Toy Specialty wins and has finished his International FCI Title. He is now winning BIS Veteran placements!
Amongst his other achievements are his many sons & daughters. He has Champion offspring in New Zealand, Finland, Sweden, Norway & America.
Offspring
Int & Nord & Den & Est & Ltu & A Lowenhart Airborn Alot x NZ Ch Mystique First Edition
2001-04-22
NZ Ch Payco's Wata Jazzy Lady
Payco's Wata Lady Ella
Int & Nord & Den & Est & Ltu & A Lowenhart Airborn Alot x NZ Ch Mystique Total Image
2001-05-27
Showbiz Autumn Shower
NZ Ch Showbiz Aint She A Babe
Int & Nord & Den & Est & Ltu & A Lowenhart Airborn Alot x Hashki Venus
2001-06-06
NZ Ch Mystique Spitting Image
Mystique Had Tobe Hugo
Int & Nord & Den & Est & Ltu & A Lowenhart Airborn Alot x Amazing Grace Of Lansky
2001-08-21
NZ Ch Lansky Alotta Grace
Int & Nord & Den & Est & Ltu & A Lowenhart Airborn Alot x NZ Ch Mystique Total Image
2001-12-11
Showbiz Bigger Than Texas
Int & Nord & Den & Est & Ltu & A Lowenhart Airborn Alot x Hashki Venus
2002-01-25
Mystique My Injani
NZ Ch Mystique Imagine That
Mystique Bessies Back
NZ Ch Mystique I Am A Toy Boy
NZ Ch Mystique Charlies Angel
Int & Nord & Den & Est & Ltu & A Lowenhart Airborn Alot x Int & Nord & Den & Est Ch WW-98 Wanted Take A Bow
2002-10-30
Wanted Learning To Fly
BaltJrW-03 Wanted Landing Licence
Wanted Licence To Thrill
Fin Ch Wanted Lets Me Fly
Int & Nord & Den & Est & Ltu & A Lowenhart Airborn Alot x Int & Nord & Den Ch Chic Choix Diva De Nuit
2002-12-05
Fin Ch Chic Choix Neige Noir
Nord Ch Chic Choix Nom De Dieux
Chic Choix Nibal Snowbird
Int & Nord & Den & Est & Ltu & A Lowenhart Airborn Alot x Soleydan Illusion
2002-12-14
Wimwam's Also Airborn
Wimwam's Airy Fairy
Wimwam's Alot Illusion
Int & Nord & Est & Lat & Rus Ch Wimwam's Almost Famous
Fin & Rus Ch Wimwam's Ab Fab
Int & Nord & Den & Est & Ltu & A Lowenhart Airborn Alot x Int & Nord Ch NW-01 Cossu's Birgitte Bardot
2003-03-26
Wanted Keep On Wanting
Int & Nord & Den Ch Wanted Kit'n Kaboodle
Wanted Karma Above
Int & Nord & Den & Est & Ltu & A Lowenhart Airborn Alot x Fin Ch Grestean Fieldfare Fancy
2003-03-30
Nord Ch Chic Choix Hermine Coreil
Am Ch Chic Choix Herve La Croix
Chic Choix Hercule Poirot
Int & Nord & Den & Est & Ltu & A Lowenhart Airborn Alot x Int & Fin & Swe Ch EuW-03,-05 Fi Mama Bianca Queen Of Africa
2003-05-25
Mama Bianca King Alot
Mama Bianca Lord Of Africa
Mama Bianca Sir Airborn
Int & Nord & Den & Est & Ltu & A Lowenhart Airborn Alot x Bumir Oiseau Chanteur
2004-11-01
Bumir Vanille
Bumir VoilÁ
Int & Nord & Den & Est & Ltu & A Lowenhart Airborn Alot x Nord Ch NordW-02 NordYW-02 AmJrW Mulan Vom Burgwald
2005-01-12
Nor Ch Cossu's Farrah Fawcett
Cossu's Fay Dunaway
Swe Ch Cossu's Fabian Forte