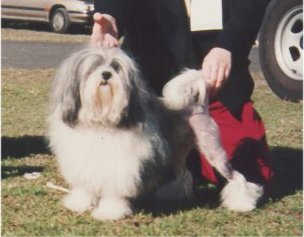 Australian Champion
Lovchen Wild Child
Hashish
Date of Birth: 1989-08-16
Height: 27 cm
Colour: Black/White Particolour
Eye Test: Untested
Knees: Normal
Hearing: Untested
Died: 1998-06-17
Owned & bred by Lowenhart
Sire: Aust Ch Thewsaan Copper Glow Dam: Shysu Thrils In The Night
Hashish was a given to us by Pam Seabrook as a tiny Black & White bundle of fur. We were complete novices in the ways of Lowchen, and were the only regular exhibitors in Brisbane at that time. She was never taken seriously, her comic abilities had us in stitches, so her show career never took off. It was only after whelping her one and only litter did Hashish become a real show dog and was awarded her first Best in Group (Open Show).
As a producer, Hashish gave us 2 wonderful Champions and 2 wonderful companions for their families. She gave us a strong foundation from which we have based all our breedings. The abundance of coat, size and movement she had can be seen down the generations, as can her bossy attitude!
Hashish is dearly missed by all who ever met her. Her antics remain in infamy within our family, her character could not be contained by death.
Offspring
Aust Ch Rondaglen Sir Galahad x Aust Ch Lovchen Wildchild
1994-08-08
Lowenhart Ellesdee
Lowenhart Lectric Blue