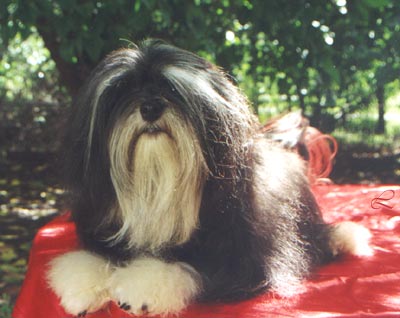 Australian Champion
Lowenhart Ewok Adventure
Wikket
Date of Birth: 1998-11-16
Height: 26.5 cm
Colour: Black & Cream
Eye Test: Clear 2003
Knees: Normal
Hearing: Untested
Owned & bred by Lowenhart
Sire: Aust Ch Paceaway Gremlin Dam: Aust Ch Lowenhart Mystic Crystal
Wikket is a small bitch with big attitude, never letting her size get in her way. She is incredibly spoilt and adored by all at Lowenhart.
In the showring, Wikket was in charge and at times this went against her. She was awarded the Bitch CC at the Toy Dog Club of Qld under breed specialist Phil Harris (Donreo) from a large entry of Lowchen. Wikket is also a multi in group winner but was retired from the show ring due to a back injury.
Wikket has produced for us our beautiful Tribbles and Manyana and is now a grandmother of some gorgeous puppies. Her role in our breeding program is very important and will become more so as we start to see her more of her grandpups.
Offspring
Aust Ch Bumir J'adore x Aust Ch Lowenhart Ewok Adventure
2003-04-01
Lowenhart Ifancy Afool
Lowenhart Ilike Advnture
Aust Ch Lowenhart Ilove Trouble
Aust Ch Bumir J'adore x Aust Ch Lowenhart Ewok Adventure
2004-06-20
Aust Ch Bumir J'adore x Aust Ch Lowenhart Ewok Adventure
2006-07-10