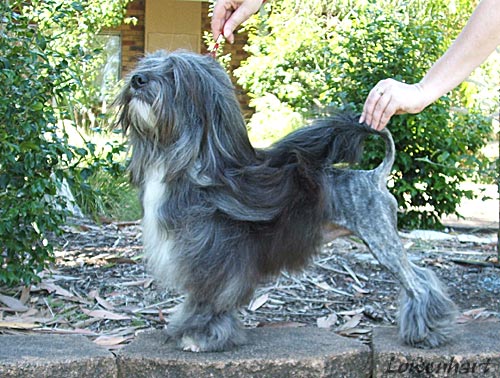 Australian Champion
Lowenhart Juju JumpJet
Juju
Date of Birth: 2005-07-03
Height: 33 cm
Colour: Black & Brindle
Eye Test: Untested
Knees: Normal
Hearing: Untested
Stud: At stud to approved bitches
Owned by Lowenhart, lives with Irene Horne & bred by Lowenhart
Sire: Aust Ch Bumir J'adore Dam: Aust Ch Damyat Upn Atom
Gorgeous & outgoing Juju possess an amazing front & rear with a deep well sprung chest. His movement is a beautiful blend of his parents - light on his feet, moving true front and rear with lovely open easy strides. Juju has one of the very best coats we have ever bred, it is silky to touch with strength, density and it very easy to maintain. Not bad for a (Black &) Brindle!
Juju becomes our youngest Group winner (Group 1st All Breeds Champ) at 7 months winning at Gunning AP&I. Juju is a multiple class in group winner, a Reserve in Group and Junior in Show winner. He was also Best Baby in Group at his last show in Baby class!
Thank you to Irene Horne for showing, grooming & spoiling Juju!
Offspring
Aust Ch Lowenhart Juju Jumpjet x Aust Ch Rondaglen Mary Poppins
2010-07-15
Rondaglen Jumpin For Joie
Rondaglen Jumpin Joie De Vivre
Aust Ch Rondaglen Jumpin Choc Au Lait
Aust Ch Lowenhart Juju Jumpjet x Aust Ch Sesukan Lil Scrumdidliumptious
2013-09-10
Lowenhart Tastes Jubelicious
Lowenhart Taste Therainbow
Aust Ch Lowenhart Tasteasgood Asilook
Aust Ch Lowenhart Juju Jumpjet x Aust Ch Lowenhart Gotmy Buttngear
2016-12-04
Lowenhart Gets Yourmotorrunnin