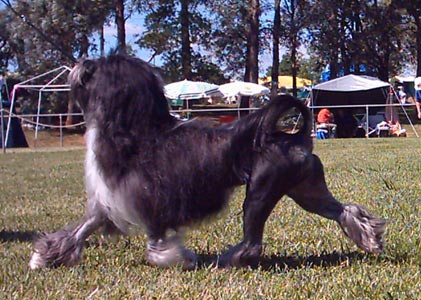 Australian Champion
Damyat UpN Atom
Britta
Date of Birth: 2002-03-07
Height: 31 cm
Colour: Black/Brindle/White Tricolour
Eye Test: Clear 2004
Knees: Normal
Hearing: Untested
Owned by Lowenhart & bred by Fay Pollock, Damyat
Sire: Aust Ch Lowenhart Axplosive Atom Dam: Lyanca Panda
A stud fee puppy, Britta has finished her Australian title before her 2nd Birthday - consistently winning under judges who prize soundness, movement and attitude.

She was Reserve CC at the Lowchen Club of NSW, Mr Steven Warry of Sabu Lowchen describing her as My RCC winning bitch was also a nice type of bitch with a well made head, good proportions with excellent eye shape and colour. Correct neck into shoulders and sound on the move. Would have liked her a bit shorter in coupling and with a shade more second thigh.
Britta is the dam of our "Jump" and "Kick" litters and produced beautifully for us. We are grateful to Fay Pollock for letting us have this girl. Britta is very over the top - affectionate, active and keen to be the center of attention.
Offspring
Aust Ch Bumir J'adore x Aust Ch Damyat Upn Atom
2005-07-03
Lowenhart Wotcha Waitnfr x Aust Ch Damyat Upn Atom
2008-07-10