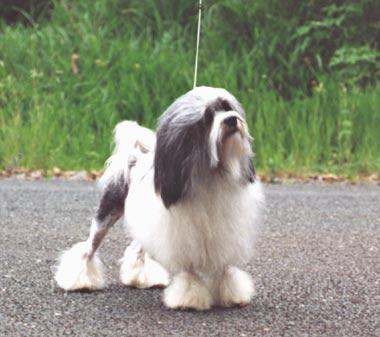 Australian Champion
Lowenhart Axplosive Atom
Gupster
Date of Birth: 1999-11-17
Height: 33 cm
Colour: Black/White Particolour
Eye Test: Clear 2004
Knees: Normal
Hearing: Untested
Stud: Frozen Semen available
Died: 2008-05-03
Owned & bred by Lowenhart
Sire: Aust Ch Paceaway Washington Dam: Aust Ch Lowenhart Mystic Crystal
Our chosen pick from the AA Boys, Gupster enjoyed a nice show career with Multi In-Group, Reserve in Group & Best in Group awards. Highly trainable, he took to Agility training with gusto; starred in a Japanese commercial and was a great ambassador for the breed.
Gupster is sire of 2 litters to date, producing Aust Ch Damyat UpN Atom and Ger Jr Ch Damyat Atom Axtion. Gupster has grandpups in various countries. We also have frozen semen from Gupster for the future.
In September 2006, Gupster was finally diagnosed after months of tests & treatments with a nasal tumour.
He was given weeks to live, or less. So every moment from that point on was a supreme blessing. Every smile, wag of his tail and jubilant bark was a gift.

Gupster didn't want to be sick, he never wallowed and never took pity on himself. Even in his last hours, when I knew the discomfort was great, he still barked and spun letting me know his joy at the prospect of this last car ride. He left his world cradled in my arms, in his most beautiful lion clip - handsome and brave.

I can finally admit publicly what I think he always knew - he was my favourite.
Favourite of his brothers, favourite of every puppy and dog since.
He knew he was the star of every scene,
And now he's gone.
Offspring
Aust Ch Lowenhart Axplosive Atom x Lyanca Panda
2002-03-07
Damyat Apollo Creed
Damyat Atomic Boy
Aust Ch Lowenhart Axplosive Atom x Aust Ch Sabu Silk N Satin
2004-12-14