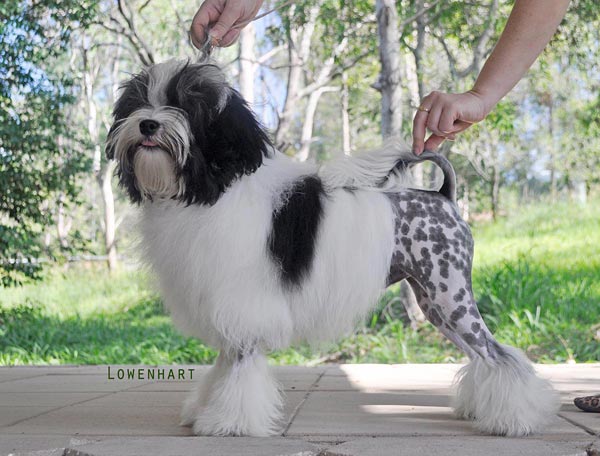 Australian Champion
Wyntervale Hiphopopotamus
Jman
Date of Birth: 2012-06-03
Height: 34cm
Colour: Black & White Particolour
Eye Test: Clear February 2015
Knees: Normal
Owned by L & C Horne & bred by L Howlett-Trahar
Sire: Aust Ch Wanted Distant Shores Dam: Aust Ch Sivaro Strike A Pose
J-man is a gorgeous son of Ch Wanted Distant Shores and Ch Sivaro Strike A Pose. He won Best Baby Puppy in Show at his very first show, and picked up Best Baby Puppy in Group the following month.

J-man won his first Best in Group at 9 months and his second 5 months later. He's a multiple class in group winner (Baby, Puppy & Junior) and was Dog Challenge at Hobart Royal 2013, Reserver Dog Challenge at Brisbane Royal 2013.

We look forward to showing J-man as he matures into a striking and glamourous adult.

We are extremely grateful to Wyntervale Lowchen for allowing J-man to come live with us.
Offspring
Aust Ch Wyntervale Hiphopopotamus x Aust SupCh & NeutCh Lowenhart Kickup Theheini
2015-02-18
Aust Ch Lowenhart Runs Theworld
Aust Ch Lowenhart Runs Ringsround
Lowenhart Run Rabbitrun
Aust Ch Wyntervale Hiphopopotamus x Aust Ch Lowenhart Pretty Pricetag
2016-07-30
Lowenhart Honeywiththe Money
Aust Ch Lowenhart Rightonthe Money