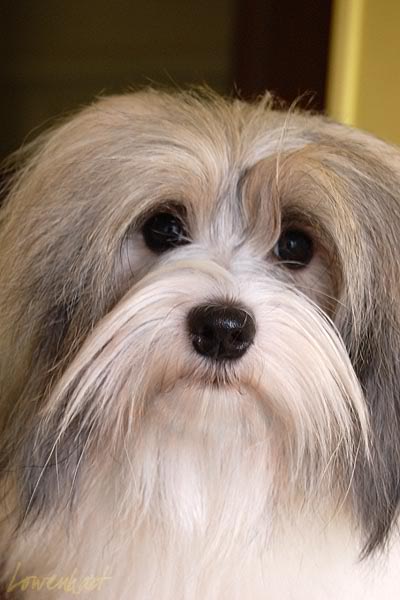 Australian Champion
Wanted Distant Shores
(imp Finland via Norway)
BumBum
Date of Birth: 2007-06-06
Height: 34 cm
Colour: Fawn/White Particolour
Eye Test: Normal May 2012
Knees: Normal
Hearing: Untested
Stud: At stud, enquiries welcome
Owned by Cath Horne, Lowenhart & bred by Jari Partanen, Wanted
Sire: Int & Nord & Ltu Ch Pridesden Pericles Dam: Int & Nord & Den & Lat & Ltu Ch Wanted Inner Voice
BumBum, our Norwegian/Finnish boy arrived at Lowenhart in December 2007. On release from Quarantine he bounded on the full length of his lead and lept up at anyone he could spot - a true Lowchen puppy!

He is known for his happy, affectionate personality which can also be seen in his puppies.
From extremely limited showing BumBum is a multiple Group winner (Open Show), Best in Group (Championship Show), a Royal Best of Breed and RuBOB winner and multiple Class in Group/in Show winner.
BumBum is the combination of British and old Finnish bloodlines, we are extremely proud of how he has matured and looking forward to seeing more of the beauty in his pedigree to future Lowenhart litters.
Offspring
Aust Ch Wanted Distant Shores x Sesukan Lil Meltnmoment
2009-11-25
Aust Ch Wanted Distant Shores x Aust Ch Sivaro Strike A Pose
2012-06-03
Aust GrCh Wyntervale Rhymenocerous
Wyntervale Foux Du Fafa
Wyntervale Bowies In Space
Aust Ch Wanted Distant Shores x Aust SupCh & NeutCh Lowenhart Kickup Theheini
2012-12-07
Aust Ch Wanted Distant Shores x Aust Ch Lowenhart Jumpupn Kissme
2013-08-05