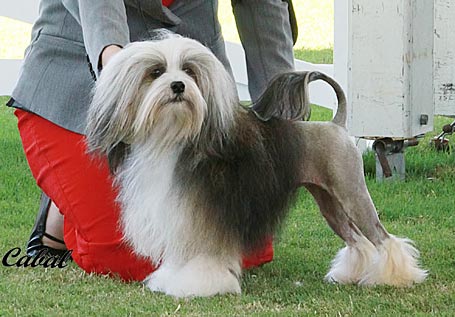 Australian Supreme & Neuter Champion
Lowenhart KickUp TheHeini
Heidi
Date of Birth: 2008-07-10
Height: 29cm
Colour: Sable/White Irish Pied
Eye Test: Normal May 2012
Knees: Normal
Owned & bred by Lowenhart
Sire: Lowenhart Wotcha Waitnfr Dam: Aust Ch Damyat Upn Atom
Heidi has inherited her mother's over-the-top temperament and attitude. From a relatively limited showing, Heidi has achieved remarkable results.
Her puppy career was excellent winning Baby in Group, 2 x Minor in Shows and other Minor in Groups, Puppy in Show, mutliple Bitch Challenges over adult competition, Best of Breeds and is twice qualified for Queensland Puppy of the Year.
Heidi has gone on to win multiple Best in Groups, mulitple Runner Up Best in Show (All Breeds), Bitch Challenge and Runner Up Best of Breed at both Sydney and Brisbane Royals. From her first 7 appearances at the Lowchen Club of NSW breed specialty shows, Heidi has won Bitch Challenge and Runner Up Best in Show 5 times!
Heidi is a lovely sized Lowchen, with excellent head and expression. She is also a lovely sound moving girl who has been appreciated by Australian and International judges.
Heidi is the dam of 1 Champion, Ch Lowenhart Got My Butt 'n Gear "Inga".
Offspring
Aust Ch Wanted Distant Shores x Aust SupCh & NeutCh Lowenhart Kickup Theheini
2012-12-07
Aust Ch Wyntervale Hiphopopotamus x Aust SupCh & NeutCh Lowenhart Kickup Theheini
2015-02-18
Aust Ch Lowenhart Runs Theworld
Aust Ch Lowenhart Runs Ringsround
Lowenhart Run Rabbitrun