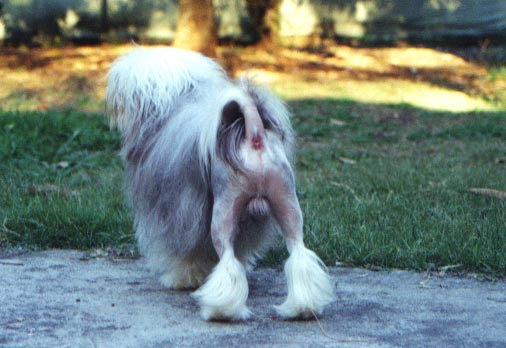 Australian Champion
Lowenhart Colord Spade
Chico
Date of Birth: 1994-08-08
Height: 29 cm
Colour: Chocolate & Cream
Eye Test: Clear 2001
Knees: Normal
Hearing: Untested
Died: 2004-11-21
Owned by Lowenhart, lived with Irene Horne & bred by Lowenhart
Sire: Aust Ch Rondaglen Sir Galahad Dam: Aust Ch Lovchen Wildchild
The Ladies Man of Lowenhart, Chico is renowned for finding the prettiest woman in the room (he especially likes blondes) and winning her heart. A born entertainer, Chico dances on 2 legs and whispers sweet nothings into the ears of his audience at every opportunity.
As a show dog Chico was awarded multi-Class in Group awards, from Baby Class to Veteran. He was Reserve Challenge at the Lowchen Club of NSW Specialty April 1995 and DCC/RuBOB Brisbane Royal 1999 (from 31 Lowchen).
After falling gravely ill with double pneumonia in 2001 and making a remarkable recovery, Chico went to live with Irene Horne where he lives a quiet retirement with a harem of Afghan girls. We very sadly and suddenly lost Chico on the 21st of November 2004. He left a giant hole in our hearts, and in the hearts of those who knew him well.