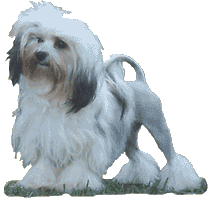 What's a Lowchen?
A Lowchen is a variety of Pure Bred dog, recognised worldwide. It's ancestors are those that created such popular breeds as the Bichon Frise, Maltese and perhaps the Toy Poodle.
Lowchen are a big personality in a small body. Energetic and comical, they always seem to amuse and entertain. Their zest for life and fun does not lessen with age, making them a wonderful companion for those who are young at heart.
What's with the hair-do?
The Lowchen is exhibited in the conformation ring in the Lion Trim - which means that the rear is clipped leaving a mane similar to an adult male Lion. The word "Lowchen" means "Little Lion" and for that reason we maintain the strong historical tradition of trimming these gorgeous dogs. Though the original purpose of this trim remains clouded, it is clear that the ladies of the 14th Century elite kept Lowchen and preferred the lion trim above all others.
Where does it come from?
We can place small lion dogs in Europe in the 14th Century. Thankfully we have the artworks of many fine artists to place the dogs in Germany, France, Belgium and as far north as Sweden. Images of Lowchen can be found in castles and churches throughout these regions and the Lowchen is heavily favoured by Durer, Goya and Cranach. Click here to see Lowchen in Art.
The modern Lowchen can trace its to the work of a single breeder in early 20th Century Belgium. Dismayed at seeing the breed abandoned as a casualty of war and social change, Mdme Bennert managed to bring the breed back from the edge of extinction.
Where can I get one from?
Lowchen are being raised, shown and enjoyed the world over. They are still extremely rare in Asia, Africa and South America, but are becoming increasingly popular in North America, Europe, Australia/New Zealand and Nordic countries. The secret is out about these fantastic companion dogs!
It is not advisable to purchase a puppy from a Petshop or Puppybroker. In some places, puppies sold in petshops are sourced from "Puppymills" which are not ideal places for raising healthy, outgoing pets.
The best place to source a Lowchen from is a breeder, you should visit as many breeders as you can before purchasing a new puppy. Breeders are able to inform you about the true nature of the breed and allow you to view adult relatives of your new puppy.