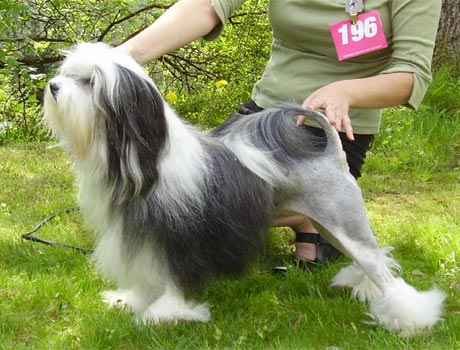 JŁngstensieger Coburg'03, JŁgendsieger Leipzig'03, Amsterdam Winner'03, Amsterdam Jr Winner'03, EuropaSeiger'04, International, Netherlands, German, German Jr Champion
Lowenhart Chance DeLaVie
(Export Germany)
Erik
Date of Birth: 2002-11-18
Height: 36 cm
Colour: Black/White Irish Pied
Eye Test: Clear 2004
Knees: Normal
Hearing: Untested
Stud: Contact Owner
Owned by Bianka Schneider, Germany & bred by Lowenhart
Sire: Aust Ch Bumir J'adore Dam: Aust Ch Lowenhart Mystic Crystal
Erik is the last son of Ch Lowenhart Mystic Crystal and was sent to Bianka Schneider (Crazy Gremlins) as a 4 mth old puppy.
His show career has been remarkable, Erik was Baby in Group under Toy Specialist Mr T Tancred a few short weeks before export. His first show in Germany was the World Show 2003, where he won the Puppy class. Erik continued on with Puppy in Show at Coburg, Best Opp Sex at the Amsterdam Winner Show from Junior class, and Best Opp Sex at the Europaseiger show 2004. He was the #1 Junior Lowchen in Germany (LCD) in 2003. Erik was placed 1st in Champion Male at the 2nd World Congress show infront of his half-brother Charlie.
Erik has sired some lovely dogs who have gone on to much success in the show ring and as family pets.
Offspring
Int & Ger Ch Ger JrCh AmW & AmJr Lowenhart Chance Delavie x Ger JrCh Crazy Gremlin's Onya's Star
2005-03-09
Int & Bel & Ned & Lux & Fra Ch Crazy Gremlin's Casanova
Crazy Gremlin's Calimero
Crazy Gremlin's Cheyenne
Crazy Gremlin's Chucky
Int & Ger Ch Ger JrCh AmW & AmJr Lowenhart Chance Delavie x Int & Ger & Lux Ch Ger JrCh Ninifee Von Dem L÷wchenparadies
2005-03-23
Crazy Gremlin's Devil
Int & Cze & Pol & Svk & Hun Ch C Crazy Gremlin's Daisy
Crazy Gremlin's Dark Angel
Int & Sui & Rsm & Ita & Slk & Lu Crazy Gremlin's Dj Duke
Int & Ger Ch Ger JrCh AmW & AmJr Lowenhart Chance Delavie x Int & Hun & Aut Ch Hun ShCh Aut Amanda Von Den Altlichtenwarther L÷wen
2006-01-21
Juanita Von Den Altlichtenwarther L÷wen
Int & Aut & Hun & Slk Ch AutW-08 Joya Von Den Altlichtenwarther L÷wen
Aut JrCh Jade Von Den Altlichtenwarther L÷wen
Int & Ger Ch Ger JrCh AmW & AmJr Lowenhart Chance Delavie x Ger JrCh Crazy Gremlin's Onya's Star
2006-03-24
Crazy Gremlin's Frisbee
Crazy Gremlin's Farah
Sui JrCh Crazy Gremlin's Flash Dance
Crazy Gremlin's Fantasy
Int & Ger Ch Ger JrCh AmW & AmJr Lowenhart Chance Delavie x Lux JrCh EuJrW-02 Trusty Friend's Zoe
2006-04-06
Trusty Friend's White Neck
Trusty Friend's Whisky
Trusty Friend's Watson
Int & Ger Ch Ger JrCh AmW & AmJr Lowenhart Chance Delavie x Queenie Vom Burgwald
2006-05-08
Crazy Gremlin's Gentle Gizmo
Ger & Sui JrCh Crazy Gremlin's Grizzly
Crazy Gremlin's Gremlin
Crazy Gremlin's Goofy
Int & Ger Ch Ger JrCh AmW & AmJr Lowenhart Chance Delavie x Int & Ger & Lux Ch Ger JrCh Ninifee Von Dem L÷wchenparadies
2006-06-21
Crazy Gremlin's Happy Lion
Crazy Gremlin's Hipster
Int & Ger Ch Ger JrCh AmW & AmJr Lowenhart Chance Delavie x Crazy Gremlin's Angel Joy
2006-11-01
Crazy Gremlin's Jojo
Crazy Gremlin's Joker
Int & Ger Ch Ger JrCh AmW & AmJr Lowenhart Chance Delavie x Int & Ger & Lux Ch Ger JrCh Ninifee Von Dem L÷wchenparadies
2007-03-01
Int & Sui & Ger & Aut & Fra & Lu Crazy Gremlin's Karishma-lee
Ned & Lux JrCh Crazy Gremlin's Kimberly
Crazy Gremlin's Koko Chanell
Int & Ger Ch Ger JrCh AmW & AmJr Lowenhart Chance Delavie x Ned Ch Hannie's Fan De La Maison Dominique
2010-05-18
Bel Ch Quinten De La Maison Dominique
Quartz De La Maison Dominique
Quinyfee De La Maison Dominique
Quizzy De La Maison Dominique
Int & Ger Ch Ger JrCh AmW & AmJr Lowenhart Chance Delavie x Ger JrCh Crazy Gremlin's Ivy
2012-09-23
Crazy Gremlin's Enjoy Et
Int & Ger Ch Ger JrCh AmW & AmJr Lowenhart Chance Delavie x GerW-11 Zam-zini Von Dem L÷wchenparadies
2013-04-19
Bibi Von Dem L÷wchenparadies
Buffy Von Dem L÷wchenparadies
Bambina Von Dem L÷wchenparadies