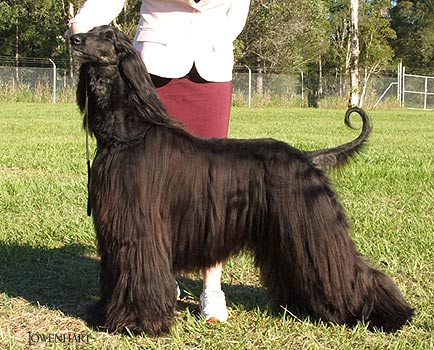 Australian Champion
Lowenhart She's Charmed
Piper
Date of Birth: 2001-10-01
Height: 69 cm
Colour: Black & Brindle
Owned by Cath Horne & bred by Lowenhart
Sire: Aust Ch Mr Sandman's Wizard Of Quom Dam: Aust Ch Kangai Gothic Dream
Piper is the wild woman of Lowenhart. She is athletic, agile, intelligent and a renowned Houdini. In the showring she has distinguished herself with National Specialty & Specialty class wins and placements, Group wins, multi in-group awards and her first Group 2nd award at just 10 months.
Piper is an excellent lure courser, and successful ovaltrack racer. 2005 has been an excellent year for Piper, winning under Breed & Sighthound specialists. We thank those judges who awarded Piper for being just what she is - a total Afghan.
Piper is the dam of our 2007 litter.
Offspring
Aust Ch Kangai Distant Son x Aust Ch Lowenhart Shes Charmed
2007-06-06
Lowenhart Follow Heroes
Lowenhart Into Farscape